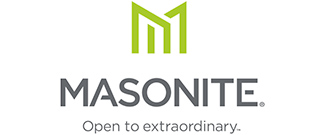 Masonite Fiberglass Doors
Throughout our 80 year history, Masonite Fiberglass Doors has maintained its focus on leading-edge innovation, manufacturing excellence and superior customer service.
Homeowners, remodelers, architects and builders rely on Masonite for a comprehensive line of beautiful and durable entry door systems that add value to any home. They are constantly expanding their diverse line of doors to meet any design or budget. Masonite Fiberglass Doors provide a wide range of exterior doors that have been designed and manufactured to bring beauty, satisfaction, long-lasting performance and value to your home. Their extensive line of products includes fiberglass entry doors which come in a range of panel designs and glass configurations that are sure to enhance any architectural style or design need.
Masonite Fiberglass Doors Gallery
the full line of Masonite Fiberglass Doors:
Barrington Fiberglass
Vista Grande Flush-Glazed
Heritage Series
Modern Door Collection
Ready to start your next project?
Talk To An Expert